Articles
Table of Contents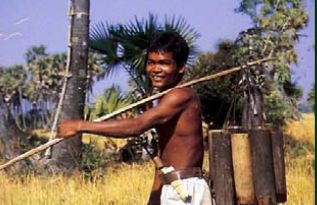 Overview
Geography
Population
Climate
Economy
Tourist Attractions
Tonle Bati
Phnom Chiso
Phnom Da
Angkor Borei
Phnom Khleng
Overview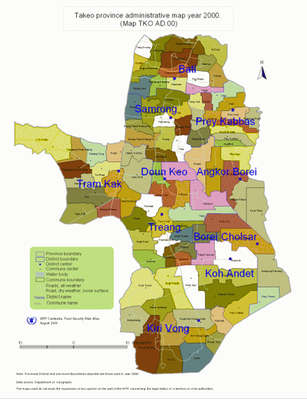 Takeo province is often referred to as "the cradle of Cambodian civilization". Takeo province has several important pre-Angkorian sites built between the 5th and the 8th century. The provincial capital, Takeo town, is an easygoing place that possesses a fair amount of natural and manmade beauty. The natural beauty is in the Scenic River and lake facing a pleasant town parkway. The low -lying areas include much of the surrounding province area, which is probably why a kingdom that once had its heart here was referred to as Water Chenla. There seems to be water everywhere in the surrounding countryside during the rainy season. The man-made beauty mostly comes from a series of canals and waterways that were cut through the surrounding countryside, many a very long time ago, connecting towns, villages, rivers and Vietnam.
Nearby Angkor Borei town (connected by water to Takeo town) may have been the heart of the Funan Empire, which is called the "Cradle of Khmer Civilization" by Cambodians. Much older than Angkor, the Funan empire had its heyday between the 1st and 6th centuries and stretched across a vast area, from South Vietnam through Thailand, down through Malaysia and into Indonesia. Gold, silver, and silks were traded in abundance in the kingdom, series of fiefdoms.
Archaeologists from the University of Hawaii, USA ,have made research trips to Angkor Borei in an attempt to piece together the history and story, as well as relics, of the Funan period. In an odd recent twist, Reuters News Service reported in early November 1999 that locals saw the research team digging up ancient relics and figured the stuff must be valuable, so they started digging and looting objects from the area.

Fortunately, the Cambodian government seems to be moving in on the problem quickly to try to save what they can of this important piece of Khmer heritage. Much of what did remain in the form of ancient ruins in Angkor Borei was destroyed not too long ago in the modern past. Fortunately artifacts and history have been put together in the museum.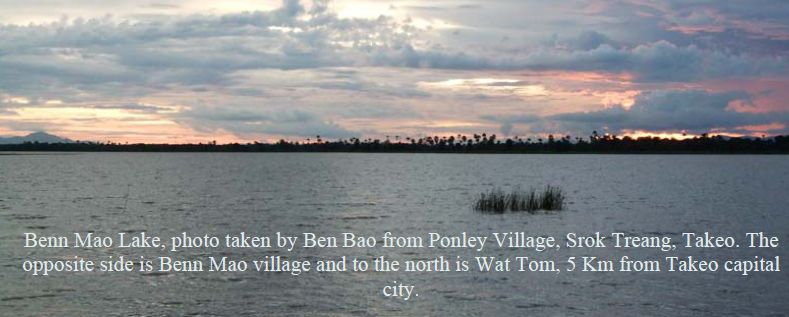 Takeo Province is full of other interesting sights as well and because of the short distance and good road from Phnom Penh, all are great day trips. Some sights can be combined in a day trip. If you have a bit more time, spend an evening in Takeo town and take in all the sights. There is a pleasant little place to stay overlooking the river and lake area.
Geography
Takeo is located in Southern Cambodia. It borders Kampong Speu to the North, Kandal to the East, Vietnam to the South and Kampot to the West. The area of the province is 3563 square kilometers (MAFF www.maff.gov.kh). The topography is variable, from the Bassac River floodplains to the east, through a broad belt of lowland paddy fields occupying much of the province, to smaller areas of lowland/ upland mosaic on parts of the Western and Southern borders. Takeo is classified as a rural province.

Population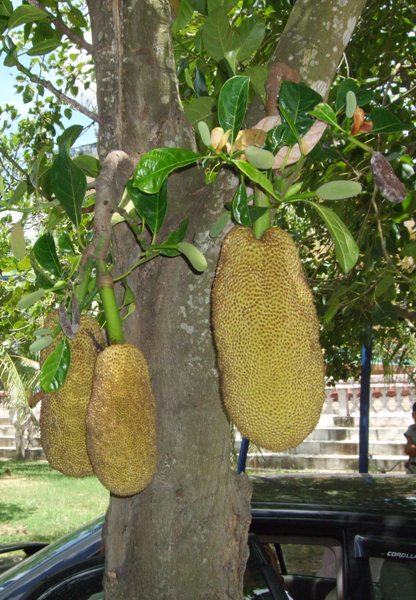 The current population in this province is about 924,758 people or 6.4% of the country 's total population (14,363,519 person in Cambodia, 2007, provincial government data), with 445,000 male and 479,758 female. The population density is therefore about 100 people per square mile.
Climate
The average temperature is about 86 degrees Fahrenheit; the minimum temperature is about 61 degrees. December and January are the coolest months, whereas the hottest is April. General information about the provincial climate:
Cool season: November-March (72-82F)
Hot season: March-May (82-97F)
Rainy season: May-October (75-90F, with humidity up to 90%.)
Economy
Takeo 's economy consists of agricultural farming, fishery, rice and fruit cropping. Rural households depend mainly on agriculture and its related sub-sectors.
Tourist Attractions
Tonle Bati
Tonle Bati (Tonle means river) is a popular lake and picnic area that has bamboo shacks built out over the water that people can rent out for eating and whiling away the day. It 's generally a weekend get-away spot, which means it 's nice and quiet during the week.

There are all kinds of food and drink stands selling everything you need for a picnic along the lake. Tonle Bati is a place of worship and features two ancient temples, Ta Promh and Yeay Peov, and a pagoda, Wat Tonle Bati, which was built in 1576. During dry season when water recedes, the place is a little quiet. But visitors do not come here for a floating bamboo shack, foods or drinks. Two ancient temples (Ta Prum and Yiey Pov) nearby offers them an insight to a pre-Angkorian architectres. It is also a place for worship to ancestors.
Ta Prum Temple Was built in 12th century and at the beginning of 13th century (1181-1201) during the reign of the king, Jarman VII, dedicated to Brahmanism and Buddhism. The temple made of sandstone and laterite stone, surrounded by walls, and has protruding sculpture which describes celestials ' nymph in the story of Brahmanism. In the temple, there are five compartments containing two statues of 13th century, which located in front of the figure of krud and facing to the East. Yiey Pov (Grandma Pov) Temple Located behind Tonle Ba Ti pagoda. Yiey Pov temple was built of sandstone in 12th century and facing the East.
Phnom Chiso (Chiso Mountain)
Located in Rovieng commune, Samrong district, about 62 kilometers south of Phnom Penh, Phnom Chiso is 13O-meter-high mountain. Phnom Chiso temple was built with sandstone and other stones in the early 11th century by King Suryavarman I (AD 1002-1050), who practiced Brahmanism. It is 60 meters long and 50 meters wide and sits atop a mountain.

The temple is surrounded by two galleries. The first gallery is 60 meters long on each side. The second, smaller gallery, is in the middle, where there is the main worship place with two doors and a wooden statue. There are beautiful sculptures on the lintel and the pillars. Phnom Chiso Pagoda was built in 1917, destroyed by war during the 1970s and rebuilt in 1979. Behind it is a hall called
Thammasaphea, kof and a worship place. There is an ancient water tank made of concrete. People usually climb the staircase on the west side of the mountain, which has 390 steps and descend by the south side staircase, which has 408 steps.
Phnom Da
Phnom Da, about 102 km away from Phnom Penh is one of the ancient historical places in Cambodia. Earlier it was the old capital of Nor Kor Kouk Thlork of Kouk Thlork It is about 24 km away from the town of Takeo. Phnom Da temple was constructed on a small mountain in the 6th century by the King Rut Trak Varman. There are 5 man-made statues situated at the valley of the mountain. These statues represent the style of Phnom Da.
Angkor Borei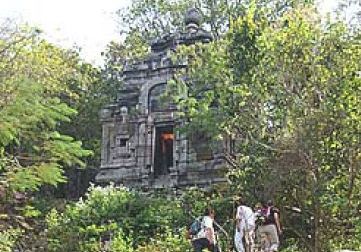 Located in the southern province of Takeo, Angkor Borei is one of the oldest sites in Cambodia with several ruins and archaeological digs. This picturesque town is divided into two halves by a gently flowing river and encircled by an ancient and gently crumbling wall. Cambodians occupied the land for at least 2500 years and has yielded artifacts dating from the Neolithic period, the Funan period (4th/5th century AD) and Chenla (8th century AD) as well as the later Angkorian period (9th-15th century AD.) There are no significant temple ruins at Angkor Borei but there is a very interesting little museum displaying artifacts from the area.
Phnom Khleng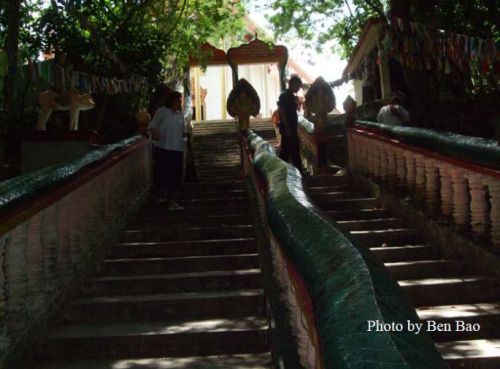 The Phnom Kleng, Takeo is considered among the famous tourist attractions in Takeo. A scenic province in Cambodia, Takeo is home to a number of natural and artificial places for sightseeing. There are several grand temples and natural and wildlife preserves in Takeo. There is plenty of vegetation at the Phnom Kleng. You can witness different kinds of birds, insects, reptiles, fishes, and mammals at this wildlife preserve.
Phnom Kleng is a pagoda that was built within a local community. There are two Buddhist temples, one is at the foot of the hill. A steep stairway with serpent handrail, decorated with many statutes along the way leads to another temple atop. There are a gigantic Buddha status, a statute of Preah Ko Preah Keo and many others. A southeastern hill sidewalk leads to a sacred natural water fountain. Locals believe that drinking or washing face with this water would heal all kinds of diseases.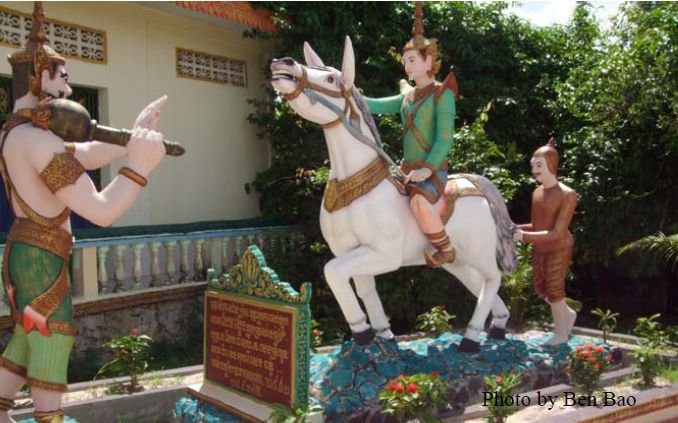 ---
Sources:
http://www.takeoprovince.com/
http://en.wikipedia.org/wiki/Takeo_Province
Last Updated: 09 June 2016
Hits: 11617
---
Table of Contents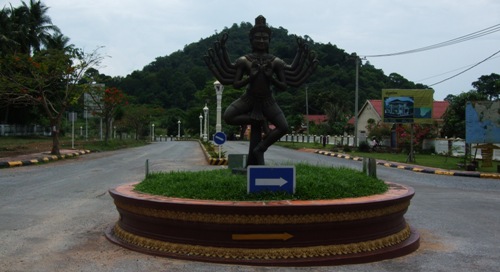 Overview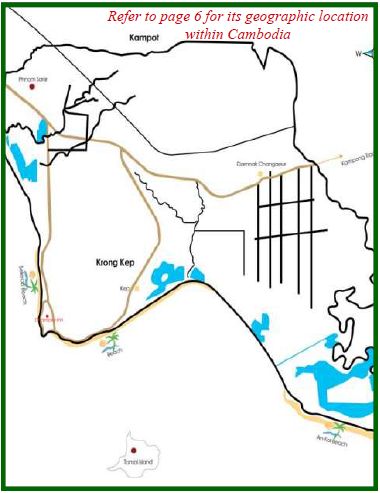 Kep was a municipality that lies along Cambodian southern coast. It has recently become one of Cambodia's province. Kep city was established in 1908 by France during the colonial era. It is known to be a relaxed, sun-dappled, tranquil atmosphere beaches. People come to kep to indulge in its luxurious beachside resorts, tropical islands, and mouth-wateringly seafood, particularly crabs.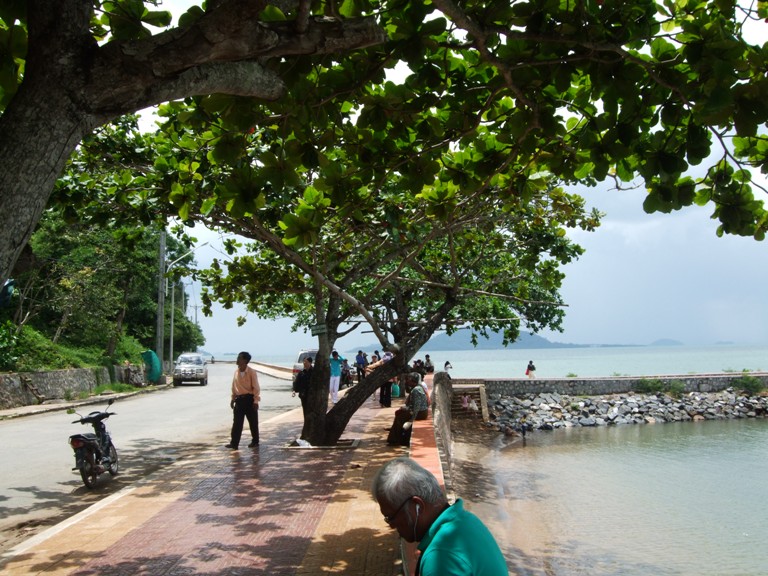 Prior to 1970, this lush coastal region was a seaside playground for foreigners and Cambodian elite. Casinos, fancy villas and resorts were the norm here in the 50 's and 60 's. Every weekend, Phnom Penh city dwellers, some 120 km away, were rushing along national route 3 crossing picturesque countryside inTakeo and Kampot provinces. Destination: Kep beaches, Bokor Hill Station. Kep was Cambodia's most popular beach town even though it is not in the same league as those in Shinanoukville.
Kep has fallen on hard times during civil war era which brought Khmer Rouge to power in 1975. Many of Kep's, mostly French villas are abandoned, but some of the town's former splendor is still apparent.
The ocean is lined with huge sidewalks and some large statues that now seem largely out of place. King Sihanouk built a palace overlooking the Gulf of Thailand, but it was never furnished and now sits empty. A good, paved road connects Kampot town, some 15km away. The slightly darker beaches than in Sihanoukville are mostly scattered with mangroves and black rocks, but some visitors do not come here for just beaches. They take-off on a short boat ride to Koh Thonsay (Rabbit Island) where they enjoy white-sand beach, cocounut tree and colorful
Recently, the province has undergone a major renovation. Kep appears to be experiencing something of a renaissance, with several mid-range and luxury guesthouses and bungalows recently opened or still under construction. Kep is also home to an extensive national park covering some mountains with deep green jungle.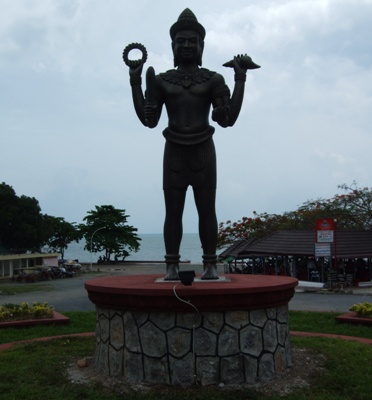 A small section of the beach is a regular Crab Market (Psar Kdam). Fishermen bring in baskets of crabs by the boatload, and waterfront restaurants cook them fresh, usually boiled with a few fragrant sticks of famed Kampot pepper. Fish, squid and prawns are also on offer, often cooking slowly over coals at the front of all the restaurants. There are many crab peddlers along the seasidewalk, offering cooked crabs, squids, fishes and shrimps.
For a relaxing day trip, visitors often travel to a nearby island such as Rabbit Island (Koh Thonsáy), which is only a short boat ride off Kep's coast. Here, you'll find beautiful seaside views, bamboo platforms and basic bungalows, and plenty of rustic charm. A boat back during the evening sunset is not to be missed.
A Beauty Queen aperture is one of the popular place people visit. Superstitious at best, some Cambodians bring flowers and incents to pray to this goddess for prosperity and good health, while others pose for a picture and make the best of out their visit. Most

Tourist Attractions
Picnic Area
To experience Khmer Culture, picnic should not be missed. There are plenty of picnic areas along the road that lines up with beach. The platforms are small open cottages with picnic table and hammock. Visitors may rent it or just find an empty place, under a shade of a tree or an open air (if sunbathing is preferred). Vendors/cottage owners will present you with live crabs, fresh prawns, squid and fish from which to choose.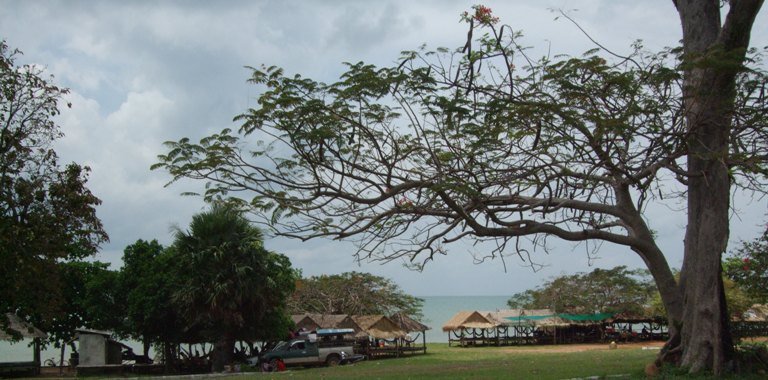 Kep Beach
Kep Beach is a famous seaside resort with twelve months of sunshine. A single, kilometer long crescent of sand near the tip of the Kep peninsula. Visitors will find dining places and seafood vendors line the road behind the beach. Visitors can see attractive picturesque mountain views and winding lanes toward the beach. A sightseeing tour of the city is very popular with them. They can stroll down the sidewalk, sunbath, swim, and picnic there.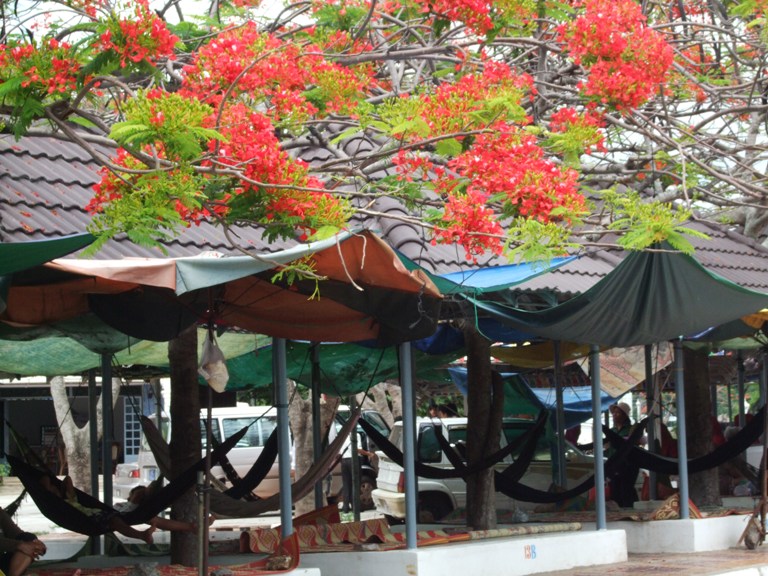 Phnom Sar Sear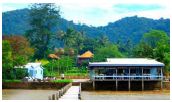 Phnom Sar Sear is a nature and cultural site located about 14 Kilometers southwest of Kep city. It is composed of three small mountains about 1.5 square kilometers, 40 meters high. The site features two natural caves-Phnom Dorei Sar and Phnom Ach Prochiev-which tourists can explore. In Phnom Damrei Sar cave, there is a beautiful mountain well called Viel Sre Muoy Roy where several Cambodian melodic songs titles are featured from . In the past, this site was also popular with filmmakers.
Koh Tonsay (Rabbit Island)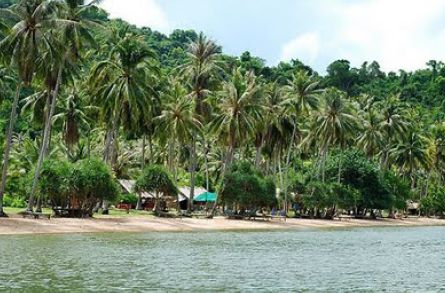 Koh Tonsay is located about 4.5 Kilometers southwest of Kep. Tourists are drawn to the two beautiful white sand beaches. The sea here is shallow and has a long slope, making Koh Tonsay excellent for swimming. At the sea bottom area a variety of corals, sea animals and plants which attract researchers and ecologists.
Wat Samot Reangsey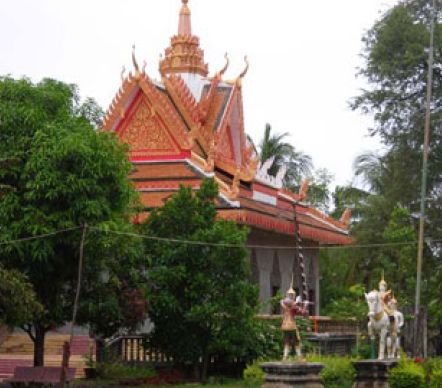 Wat Samot Reangsey is one of those Kep'sites that draws many tourists because of its historical significant. Wat means temple. Nobody knows when this Buddhist temple was built, but its ancient buildings suggest it is for sure a historical site. There, visitors will find fascinating insight into the history and culture of the land.
---
Discover Kep is Researched by Boran Tum and Ben Bao, illustrated by Ben Bao.
Sources:
http://en.wikipedia.org/wiki/Kep_Province http://www.cambodiaout.com/author/admin/page/3/ http://www.opencambodia.com/gallery-of-kingdom-of-cambodia/item/42/asInline.html?lang= http://www.kepcity.com/things_to_do.html http://www.tourismcambodia.org/provincial_guide/index.php?view=detail&prv=10 http://www.cambodiatips.com/travelguide/kep/whatandwheretoeat.html
---
Table of Contents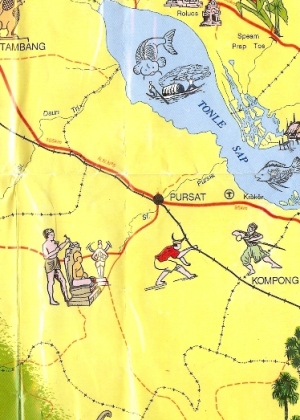 Overview
Pursat is the fourth biggest province of Cambodia. The province is located in the western part of the country and borders clockwise from the north with Battambang, the Tonle Sap Lake, Kompong Chhnang, Kompong Speu, Koh Kong, and Thailand. Pursat offers a perfect access to both the Tonle Sap (just 35km far) and the Cardamom Mountains (right to the West). The name of Pursat refers to a type of tree. The provincial capital of Pursat is also called Pursat town. The city is located right in the middle between the Tonle Sap and the Cardamom Mountains on the riverbanks of the Stung Pursat. Pursat is the home of many marble workshops. The precious marble stones originate from the Cardamoms Mountain.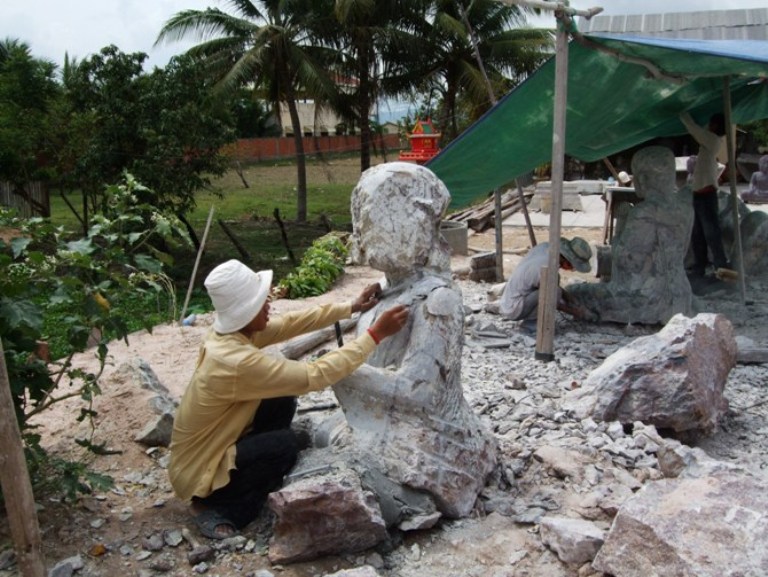 Tonle Sap
Pursat province offers the magnificent opportunity to see one of the larger and markedly less touristy floating villages without a significant investment in time or money. In fact, there are a number of floating villages in the province only accessible from the lake, Peach Kantil, Kbal Taol, and Prek Kr, but you can only see Kompong Luong for the cost ofKampong Luong Floating Village.

the day-rate for a moto ($6-8) and the cost for a boat ride once you get there.
Central Cardamoms
Pursat offers a relatively easy way to enter this fantastic ecological wonder, the massive Cardamom Mountains. Accessing the central Cardamoms from Pursat is not too difficult as there is a road from Pursat to Veal Veng, a small village between the Mt. Samkos and Mt. Aural Wildlife Sanctuaries. There's really nothing to do but to take a drive through the country, to have a look at the mountains, and to talk to people who don't see many foreigners and that is even worth it. There's no organized transport from Pursat to this place, but if you ask around you should eventually get satisfactory results.
Cardamom Mountains as viewed from National route 5 near Pursat Town.

Geography
Pursat province is 12,692 square kilometres big. It 's located in the Southwest of the country and is bordering to the North with Battambang, to the East with Kampong Chhnang, to the South with Kampong Speu and Koh Kong and to the West with Thailand. The province consists of some typical plain wet areas near the Tonle Sap Basin, covering rice fields and other agricultural plantations. The Tonle Sap itself covers a big part in the province 's Northeast. Most surface area of the country is the Kravanh Mountains, or literally called "Cardamom Mountains". This is a green, forested mountain range in the southwestern part of the province, near to the border with Thailand. The highest elevation is the 1,813m high Phnom Aural in the Southeast corner of the country.
Climate
-Cool season: November- March (18-28c)
-Hot season: March-May (22c -34c)
-Rainy season: May -October (22-32c, with humidity up to 90%.)
Pursat 's average temperature throughout the year is definitely lower than in other areas of Cambodia (except Ratanakiri and Mondulkiri Province).
Economy
Pursat 's economy consists basically of agricultural farming, fishery, rice and fruit cropping in the North of the province near the Tonle Sap Basin. Beside this the harvesting of sandalwood oil, which fetches huge prices in Asia (but sandalwood trees are disappearing fast in Cambodia) is another livelihood for the locals. Unfortunately the illegal logging of precious hardwoods and the poaching of endangered species give some people an additional income.
Tourist Attraction
Cardamom Mountains
A trip from Koh Kong to Pailin will cut through the Cardamom Mountains on the western edge of Pursat province. The Cardamom Mountains of Koh Kong and Pursat provinces are said to be the most pristine wilderness area remaining in Southeast Asia. This ride takes you through the area.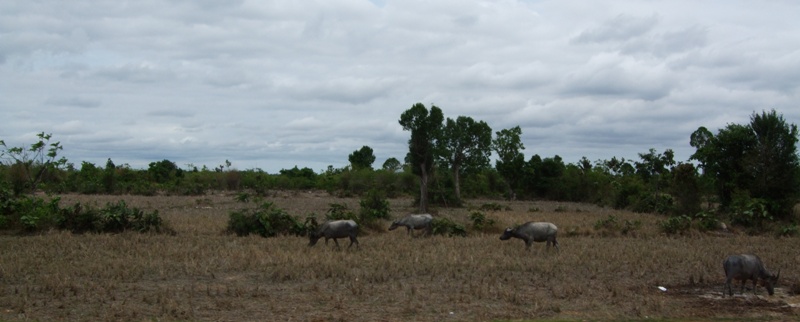 Floating Village of Lake Tonle Sap
Heading east from Pursat town, about one-third of the way to Kampong Chhnang town is the town of Krakor. Just a few kilometers to the north are Lake Tonle Sap and the floating village Life at Kampong Luong Floating Village of Kampong Loo-uhng. It 's a complete village on the water populated mostly by Vietnamese fishermen. You can arrange for a small non-motorized boat to show you around for 4,000 riel per hour.

Neak Ta Khleang Moeang
Neak Ta Khleang Moeang How to go: Location: Description: Is the main historical site in Cambodia and located at Snam Preah Commune, Ba Kan District in Six-Kilometer. The site is the sacred place prayed and worshipped by tourists who come from the near and far areas. This venerable site has a statue of Neak Ta Khleang Moeang respected and worshipped by the Cambodian people. The statue is newly made and put at the right place because the ancient statue is completely damaged by the civil war.
Last Updated: 07 June 2016
Hits: 8151
---
Table of Contents
Overview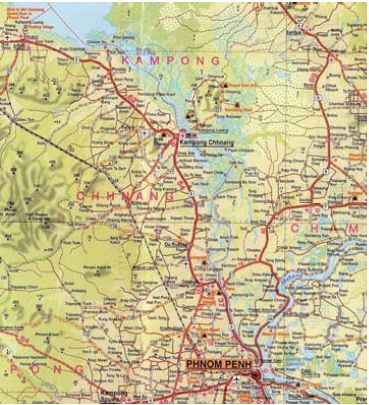 Kampong Chhnang (Clay Pot Port), on the Tonle Sap River, is a tale of two cities: the leafy centre, its focal point a grassy park, and the bustling dockside. Nearby sights include two floating villages and a hamlet famous for its distinctive pottery. The word "kampong" means that it is a port. Kampong Chhnang has many floating houses along its river, and the word "Chhnang" is the Khmer word for pottery. By land, the town is a straightforward stop on the way from Phnom Penh to Battambang, or an easy day trip from the capital, perhaps combined with a visit to Udong. You can also get to Kampong Chhnang by water; usually it 's possible to get off the Phnom Penh-Siem Reap fast boat here.
Geography
Kampong Chhnang, one of nine provinces that is part of the Tonle Sap Biosphere Reserve, is a central province of Cambodia. Its capital is Kampong Chhnang Town. The province is famous for its clay pots. Kampong Chhnang is located 70 kilometers from Phnom Penh. Nestled along rivers, fishing is one its major natural resources. Rice and vegetable farming are also widely harvested.
Climate
Similar to the entire Cambodia, Kampong Chhnang has a tropical monsoon climate. December and January are the coolest months, while March and April are the hottest. The province 's rainy season extends from May to October. Average annual rainfall is about 1,400 mm (about 55 in). The average annual temperature is about 27oC (about 80oF).
Economy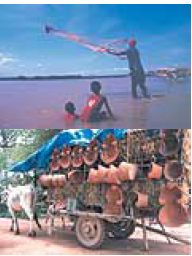 Kampong Chhnang 's economy consists basically of fishery, rice and fruit cropping and several garment factories. Especially rural households depend on agriculture and its related sub-sectors.
How to Get There
The ferries linking Phnom Penh with Siem Reap pass right by Kompong Chhnang. If you 'd like to get off here, inform the boat company in advance and they should be able to arrange for a local launch to pull up alongside the ferry and whisk you ashore. From the bus and taxi station, Phnom Penh Sorya (012 631545) has services to Phnom Penh (7500r, 91km, five or more a day to 3.30pm), Pursat (8000r, 97km, six a day till 4pm), Battambang (20, 000r, 202km, five a day till 2.30pm) and Poipet (30, 000r, two a day in the morning).
Tourist Attraction
Ondong Rossey---The quiet village of Ondong Rossey, where the area's famous red pottery is made under every house, is a delightful 7km ride west of town through serene rice fields dotted with sugar palms, most with bamboo ladders running up the trunk.
The unpainted pots, decorated with etched or appliqu designs, are either made with a foot-spun wheel (for small pieces) or banged into shape with a heavy wooden spatula (for large ones). Artisans are happy to show you how they do it.
Phoum Kandal and Chong Kos---A short sail from Kompong Chhnang's waterfront takes you to two colourful floating villages, Phoum Kandal to the east and Chong Kos to the northwest. Much less commercial than Kompong Luong, they have all the amenities a mainland village would have -houses, machine tool shops, veggie vendors, a mosque, a petrol station - except that almost everything floats. Many of the people are ethnic Vietnamese.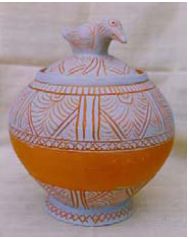 Pottery Development Center-The golden-hued mud piled up in the yards of Ondong Rossey is quarried at nearby Phnom Krang Dai Meas and pounded into fine clay before being shaped and fired; only at the last stage does it acquire a pinkish hue. Pieces, including piggy banks, can be purchased at the Pottery Development Center. In Kompong Chhnang, several stalls selling Ondong Rossey pottery can be found on NH5 towards Phnom Penh from the centre.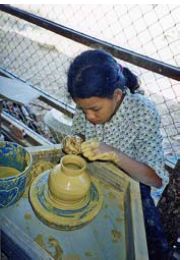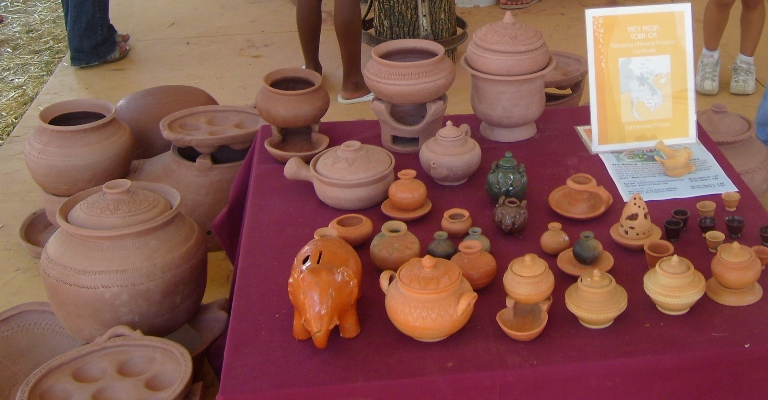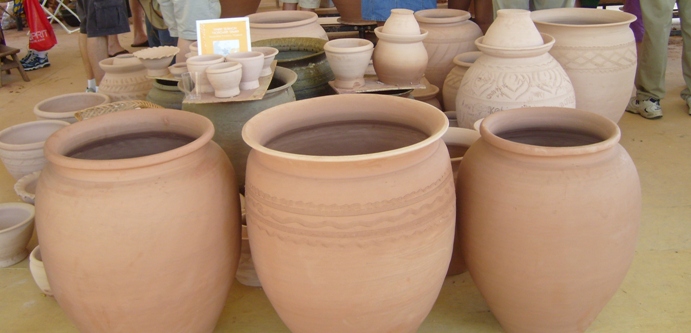 Â
Â
Â
Â
Researched and illustrated by Ben Bao. Source: Ministry of Tourism of Cambodia
Battambang Province
Last Updated: 09 June 2016
Hits: 7186
---
---
Table of Contents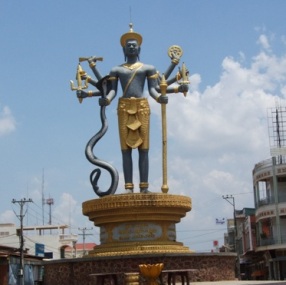 Overview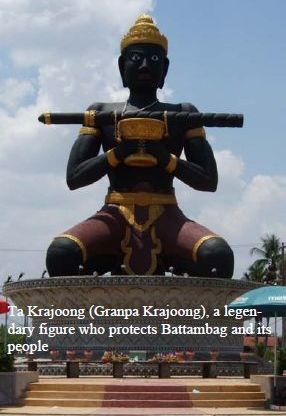 Battambang is a large and important province in the northwest of Cambodia. Its name literally translates as "the lost long stick" legend. Along with various local legends beautiful countryside, hills and many Angkorian temples, it is regarded as a vital agricultural area. Originally, during the Angkor period, the area was split in to many territories, namely Amogha Boreak and Bhima Boreak. Throughout this period, the region prospered due to the hospitable environment for growing fruit, vegetables, and other produce. In the 15th century however, when the Siamese army began to invade the regions to the northwest, the provinces ' locals were driven out of their homes, and land was confiscated. Three centuries later, until the 20th century, Battambang was under the rule of the Siamese. At the start of the 1900 's however, descendants of the people who once occupied the region demanded that land, which had been previously confiscated, should be returned to the rightful owners. These claims were based on the French Siamese Treaty of 1907. Indeed, the land was returned, and in the same year, the entire province was split in to three separate provinces, namely Battambang, Siem Reap, and Serei Sophorn. The areas then underwent a number of further alterations, both in geographical and textual terms, until the 1940 's. At this time, the province of Battambang was made up of 7 separate districts. In the following 40 years, the province underwent an excruciating ordeal of killings, torture, and other human rights abuses. This period is now referred to as the period of the Killing Fields. The last stronghold of the Khmer Rouge was in Battambang. Finally in 1979, genocide was halted in the region, and the historic first election in the area was held in 1993.
Geography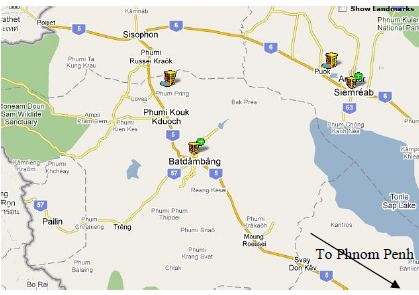 Battambang is located in the northwestern region of Cambodia. It is bordered by the Tonle Sap Lake in the east, Pursat province to the southeast, Thailand and Pailin province in the west and Banteay Meanchey to the north. Battambang covers an area of 4900 sq. mi. 664 sq. mi. is towns and villages, 1021 sq. mi. is agricultural land and 1840 sq mi. is forest. The rest is flooded land. As it stands today, the province has 13 districts. About 70% of the people are farmers. Its capital, Battambag, is Cambodia 's second largest city. It is the main highway and rail crossroads connecting Phnom Penh with Thailand. It is about 181 miles (291km) from Phnom Penh. National Highway Route 5 and train are ways to get to Battambang from Phnom. Boat and air travel are also available to and from Siem Reap. The Cardamom Mountains, with rainforests, wildlife refuges, and environmentally protected areas, spread into the southwest corner of Battambang province from neighboring Pursat province.
Economy
Known as the Rice Bowl of Cambodia, indeed of Southeast Asia, the province has a strong agricultural economy with a great production of rice. In the 2006 rainy season 2,440.14 km of rice, were cultivated for production and the average rice yielded 2.2 tons per hectare, with the total output standing at 536,830.80 tons. With the amount reserved for consumption, seeds, animal food, and waste during harvest, there were about 300,000 tons left for sale.
In addition to rice, subsidiary crops were also planted include corn, red corn, cassava, sweet potatoes and many other crops including green beans and chilies. There was a total of 194 sq. mi. of industrial crops with ground nuts, soybean, jute, sugarcane produced. The Province also produces notable quantities of pineapple, sesame, grapefruit, oil palm and saffron.
Besides arable farming, local people mainly indulge in livestock breeding, rice seed production, the production of animal fodder, etc while few operate animal breeding farms. Strategies laid out by the Ministry of Agriculture, Forestry and Fishery, have intended to aid the transition from the tradition of growing long-term rice varieties to using medium-and short-term varieties and practicing nature-based intensive rice farming.
Battambang Province has 12 fishing lots and commercial fishing exceeded 7,000 tons in 2006 of which 990 tons of rice field fish were caught by local families. The province has 37 fishing communities, each with over 300 members.
Climate
In Battambang are mainly two major rainy season and dry seasons. Rainy season starts from June to November and Dry season starts from December to May. The hottest weather comes in the dry season, which temperature rise up to 100 Fahrenheit (38 Celsius) and sometimes decreases to 68 Fahrenheit (20 Celsius).
Tourist Attraction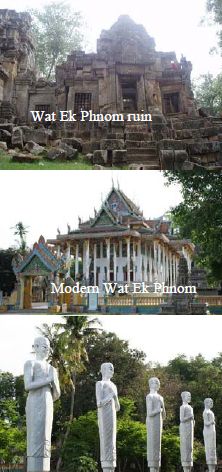 Battambag is home to some spectacular sceneries, which makes walking, tramping, and sightseeing a must for any visitor. Numerous historic ruins are open to the public, one of which is Wat Ek Phnom which was built in the 11th century during the reign of Soriyava­raman I (1002 1050), but now sits within the grounds of a modern pagoda. The temple is surrounded by 18 bodhi trees. The abundance of water in the form of lotus ponds, streams and the like give this place a relaxing feel. The temple and ruins lie 10 kilometers north of the Cobra River, and are at the bottom of a hill, hence only limited exercise is required to reach them.
For a more enduring experience, Phnom Banan is a mountaintop temple built in the Angkor period. The temple is still in relatively good condition, however pillaging and looting was once rife in the area, and the effects of this are noticeable. Nevertheless, this is an excellent sight to see, and any tourists to the area should be sure to check out at least a few of the many temples, as they certainly build a cultural and historical awareness. Other attractions worth a note are the Phnom Sampeou Mountain, the Kamping Puoy Reservoir -an incredible engineering project, Wat Pee-Pahd - an important symbol of Buddhism in Battambang, and the Gold Buddha Hill. As you can see, a tourist will not be lost for things to do in the province.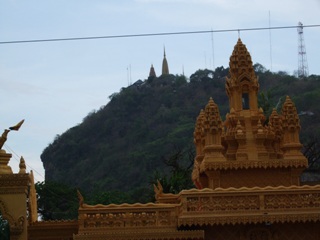 BambooTrain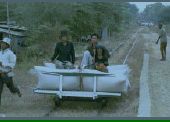 "Nories", the Cambodian word for bamboo trains, are one of the "must sees" of Battambang, if only for their novelty value. Formed by two sets of railway wheels, a bamboo mat, and a generator, these are an impromptu way of travelling up and down the railway line in lieu of the real train. When the real train shows up, all the nories disappear. They are also a great way to see rural Cambodia well of the road network. When two nories meet coming in opposite directions, the one with the lighter load is dismantled and removed from the track, allowing the other to pass. Powered by a small motor, they can carry motorbikes making a nori ride easy to combine with a motodop (motorcycle taxi) trip.
Special Characteristic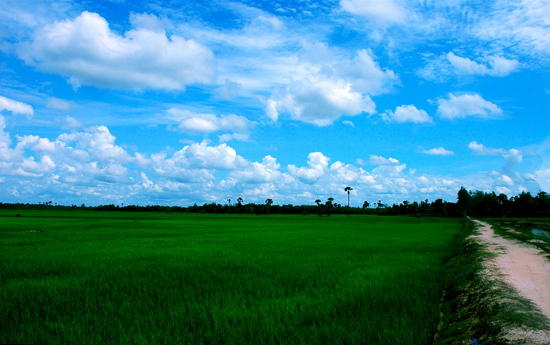 The area is known locally and internationally as the "Rice Bowl" of Cambodia. This is because the economy of Battambang is extremely efficient in the production of rice, and additionally because of the comparative advantage and local endowments in the region. An estimated 2,400 square kilometers of land is used in rice production, with the figure growing consistently each year. The abundance of land results in over 500,000 tonnes of rice being produced annually; around 300,000 tonnes of that rice is traded locally and internationally.