Articles
---
You may sponsor one or more components of the festival. For 2014, they are:
Classical Dances by Cambodian Buddhist Society Cultural Group.

Lakahon Bassac Play: it is a Cambodian traditional theater play. For more information, please click here.

Miss Cambodian American of Washington DC Metro Beauty Pageant.

Children traditional games. For more information, click here.

Live band, social dances.

Art and Craft exhibition.
If you are a sponsor, you are entitle to have an advertisement in our year book. We will announce your sponsorship on stage. If you sponsor $500 or more, you will have an opportunity to have a five-minutes speech before or in between performance, either at the stage or tent. If you sponsor $1,000 or more we will advertise your business at this website for one year.
For more information, please contact Ben Bao at 571-276-9630 or Sophia Tep at 703-971-0744 or Lowell Cole at 703-620-3074.
---
Cambodian Community Day is operated exclusively by volunteers. Its Board of Directors, officers, and members do not get paid whatsoever. If you are interested in help us, please click here to contact one of us.
We are in need volunteers to setup/bring down tents, direct traffic, attend moon bounce and many other tasks.
---
Address:
Cambodian Buddhist Temple
13800 New Hampshire Ave, Silver Spring MD 20904
Depending on what part of the Washington DC Metro areas you are coming from, please use this map as a guide. Please get onto I-495 (either inner loop or outer loop), exit to New Hampshire Ave toward White Oak.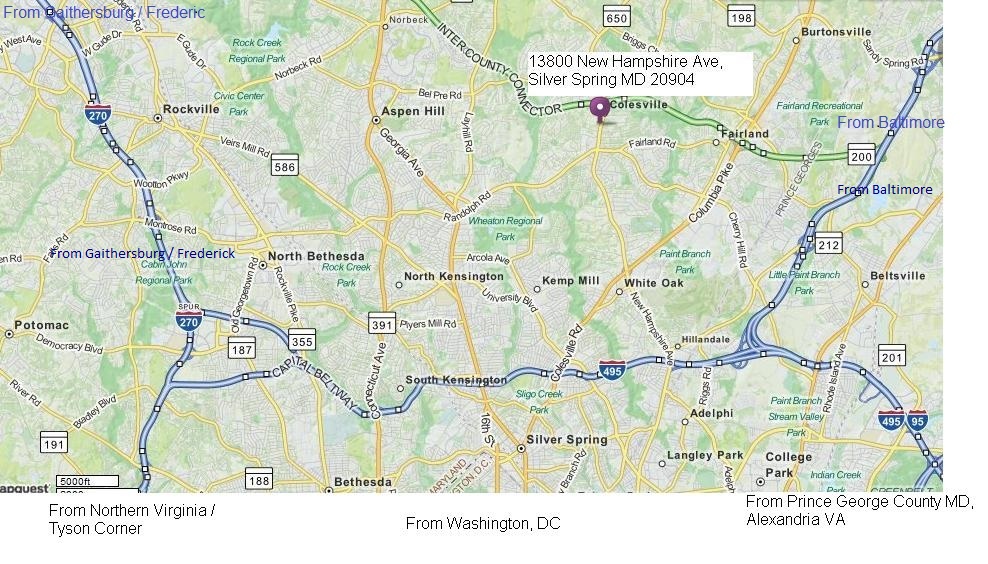 ---
Membership is free. You may join us online by clicking here. Or if you prefer, please download the membership application, in PDF format or MS Word format, fill out the information and send it the address indicated on the form. We appreciate your participation. Together, we can make a difference.
---
We encourage all charitable, not-for-profit organizations, professiona services, and/or businesses to participate in our festival. We believe this is one of the venues to advance your causes, make your origanization known to the public and/or promote your products and/or services.
There are two types of exhibition and the requirements and fees are different. If you want to ONLY display your art works, product or services, the fee is $50. The general guideline is that you may distribute flyers, brochures, pamplets, other marketing materials. If you want to sell your products or services, the fee is $150. It is free for not-for-profit organizations (proof is required). Make check payable to Cambodian Community Day.
If possible, please bring your own tent. Chairs and tables are available, but you need to take them from the storage/designated area.
In any case, you must register. Click either link below for the form.
Exhibitor Registration in MS Word
Exhibitor Registration Form in PDF
We must receive the registration form at least 10 days before the event date posted at our home page. For more information, please call:
Saody Sok: 703-580-5046 or 571-594-7553

Ithara Phlong: 240-888-1053

Ben Bao: 571-276-9630