Tip Sangva
---
Story of "Tip Sangva"
by Ben Bao, edited by Chanthary Koch
There is no written version of "Tip Sangva" story. It is a legend or an artistic story by word of mouth, from generation to generation. The story has been re-told through many types of traditional Khmer entertainment, such as Yeekae, Lakhon Bassac, or by a vocalist of Chapei Dang Veng (a long-neck, two-string guitar). The following write-up is based on the account of some Cambodian people, including the master of a show that produced Lakhon Bassac. As always, our purpose is to turn a story (true or legendary) into a performing act for entertainment. So, there will be acts that may or may not be mentioned in the story. This is how the story goes.
Once upon a time, there was a kingdom ruled by a King and a Queen. They have one son, the Prince. One day, the King and Queen, along with their entourage and soldiers, took the young Prince to sightsee in a coastal area. While they were enjoying themselves, they had not noticed the gigantic eagle flying over in the sky with its eyes on the child Prince. In a flash, the eagle dove down, and with his claws, grabbed the Prince and flew away toward the dense forest. The King and Queen cried for help while their entourage looked up to the sky helplessly.
Far from the coast and deep in a jungle, there lived a "Ta Eisey," an old hermit who lives in a remote and secluded place, inaccessible to most people. (Ta Eisey is a legendary person believed to possess magical powers and martial arts skills.) While enlightening his magic and fighting skills in the area, he saw the eagle with the child. He recited a magic spell causing the eagle to losie its grip on the child, who then fell from the sky into Ta Eisey's arms. He brought the child to his cottage, named him Chao Phirun. Through his magical powers, Ta Eisey knew who the child's parents were, and could also foresee the child's future. Instead of returning the Prince to his parents (at least not at this time), he decided to raise him and to teach him magical powers and fighting skills. Ta Eisey would not have done that if he could foresee that his student lacked the ability to become a good person in the future. To keep Chao Phirun from being too lonely, from his magical powers Ta Eisey created for Chao Phirun a servant/companion from cow waste (this humorous part is in most Cambodian legends), and, named him "Akaing," who will become the comic character in the story.
Chao Phirun grew up to be a fine, handsome young man. He was very diligent. He had learned all virtues, magic, and fighting skills, and had reached the highest level possible. He began to ask his master about his origin. Ta Eisey thought that the time was finally right and began to tell him the true story. Chao Phirum felt great sadness and longed to see his parents. He asked Ta Eisey for permission to travel and search for them. Akaing also asked to accompany Chao Phirun. Ta Eisey agreed. After a blessing ceremony, Chao Phirun and Akaing set off on their journey through the dense forest in search of his country and his family.
There existed the Kingdom of Ketchampou Borey ruled by King Aphaisorya and Queen Phaisomaly. They had a beautiful daughter named Tip SangvaSangva. King Aphaisorya was a powerful king and a great warrior. Neighboring countries dared not challenge his power. Having no son, he proceeded to teach his only daughter, Tip Sangva, all the fighting skills until she became a skilled fighter, just like him. Unfortunately, there was one regulation in the Kingdom, passed down from their ancestors, that stated that a woman could not be a war general to lead any fighting, in case of war. The commanding general must be a man. Tip SangvaSangva, although as skilled and as powerful as her father, could only fight along with other soldiers, but could never be a commander.
Another kingdom was ruled by an ogre, called Yeak. In Cambodian myth and folk tales, Yeak is a half monster/half human, large, grotesque, predatory, and flesh-eating including human beings and animals. His name is Pinreach. He had one son named Veyroth. Both were powerful warriors. Yeak Pinreach had been a friend of King Aphaisorya's. When Tip Sangva reached adulthood, Yeak Pinreach asked permission for his son, Yeak Veyroth, to marry Tip Sangva, but the latter refused. This refusal made both Yeaks very unhappy and hostile toward King Aphaisorya. However, since they were not as powerful as King Aphaisorya, they were unwilling to wage war on the Kingdom of Ketchampou Borey. They must wait for the opportunity to take place.
One day, King Aphaisorya became severely ill. The Kingdom of Ketchampou Borey was now vulnerable to foreign attacks. Yeak Pinreach and his son Veyroth learned the situation at Ketchampou Borey. They waged war to capture Tip Sangva and to force her to marry Yeak Veyroth. King Aphaisorya was deeply troubled by the declaration, called for a special royal cabinet meeting in search of strategies to defend his country. Tip Sangva begged her father to allow her to lead the fighting against the Yeaks. The King refused, because to do so would break the ancestors' rule that would result in severe unrest in war, famine, and diseases in the country. The King's officials were speechless and numb. The King then turned to his personal advisor, Preah Borohet, a high-ranking religious leader. Preah Borohet told him to conduct a prayer ceremony requesting the spirits of ancestors for help. The spirits heard the prayer and came down in a dream to Princess Tip Sangva, asking her to go and fetch a ring from a sacred place. The next day, Tip Sangva following an instruction in her dream, found a ring. When she wore it, she became man. When she took it off, she became a woman again. She told her father, her mother, and all warriors about the dream. They were all happy. They called Tip Sangva Prince Sangva Vong when she wore the ring and became a man.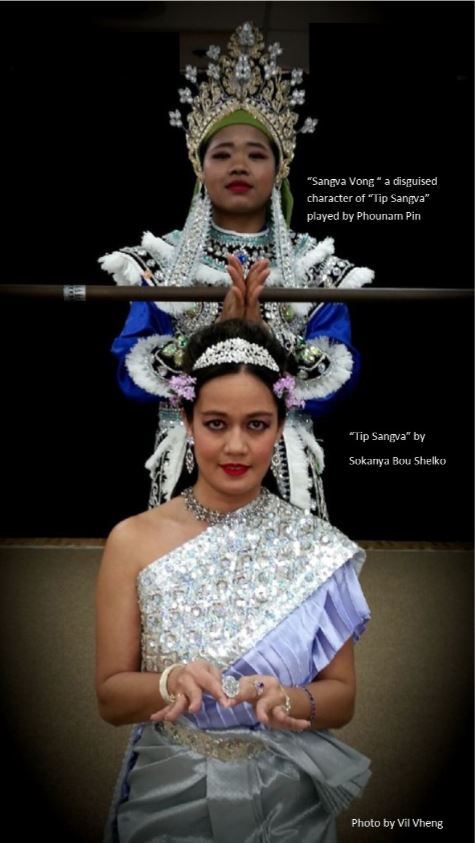 The day of fighting arrived. Princess Tip Sangva wore the ring and became Prince Sangva Vong. He led an army from Ketchampou Borey to fight the Yeaks' army in the battlefield. When Yeak Pinreach saw Sangva Vong, he questioned his identity and looked down upon him as an inexperienced, unknown, unheard-off fighter who dared to fight with him. He ordered his son to fight and kill Sangva Vong. To his surprise, Yeak Veyroth was defeated. Yeak Pinreach became very angry. He began fighting Sangva Vong. The fighting went on for a while.
Yeak Pinreach, who was a powerful warrior, defeated Sangva Vong and attempted to kill him. Chao Phirun and his servant Akaing were travelling nearby and saw the fighting. He stopped yeak Pinreach from killing Sangva Vong. He asked both parties the reason for the fighting. Sangva Vong explained to Chao Phirun that Yeak Pinreach had intended to invade the Kingdom of Ketchampou Borey, capture Princess Tip Sangva, and force her to marry his son. Chao Phirun asked for a response to this accusation from Yeak Pinreach who angrily confirmed that this was true. Wanting to defend a good cause, Chao Phirun got involved, fought, and defeated Yeak Pinreach.
Sangva Vong thanked Chao Phirun for saving his life. Chao Phirun developed an affection toward Sangva Vong, asked him if he would like to be his adopted brother. Sangva Vong accepted. They led the army back to the city. Along the way, they got tired, stopped and rested near a river. Sangva Vong sneaked out to bathe in the river. Chao Phirun woke up, did not see Sangva Vong, and went to look for him. He saw Tip Sangva bathing in the river. Tip Sangva realized that Chao Phirun was around, ran away, and wore the ring which turned her back into Sangva Vong. Chao Phirun chased the beautiful young woman whom he had just seen and disappeared, only to find Sanva Vong. He asked if Sangva Vong had seen a young woman running by. Sangva Vong denied having seen one. Falling in love, Chao Phirun was determined to go and look for her. He asked Sanva Vong to help him, but the latter refused, citing that he must hurry up to see his ill father. Disappointed by this refusal, and in attempt to convince Sangva Vong that he must help him find the beautiful lady, he grabbed Sangva Vong's arms and begged him. In doing so, the ring came off from Sangva Vong's finger, and appearing before him was the beautiful lady Chao Phirum was looking for. Tip Sangva told Chao Phirun the truth. They both fell in love. They could not wait to reach to the royal palace and to ask her parents for marriage.
Again, along the way, they stopped and rested. There was a female giant (in Khmer, we pronounce "Yeakheney", another fictional character in Khmer legends that has the look and behavior similar to the "Yeak") nearby. She saw Chao Phirun and fell in love. She cast a spell on Tip Sangva and dragged her away. Yeakheney then disguised as Tip Sangva and laid down beside him. After waking up, they continued their trip. Chao Phirun noticed a different behavior by Tip Sangva. He suspected that something had happened. He tricked her. and uncovered her true identity. He fought and scared Yeakheney away. Later, Chao Phirun and Tip Sangva were reunited and continued their trip until they reached the palace where they both were happily greeted by King Aphaisorya and Queen Phaisomaly. The King and Queen realized that Chao Phirun was the ill-fated son of their good friends. So, he sent his messenger to the kingdom of Chao Phirun's parents who were very happy to receive the news. They came to Ketchampou Borey. The Kings and Queens of both kingdoms married their son and daughter and they all lived happily ever after.
Lakhon Bassac show for Cambodian Cultural Festival, September 10, 2017
These are the songs that will be used in a traditional Cambodian Opera called Lakhon Bassac. The title of the story is Tip Sangva. The show will be performed during the Cambodian Festival in September 2017.
Story written by Ben Bao based on a legend told by word of mouth.
Music was produced by students of the university of Fine Arts, Lakhon Bassac Unit. Cambodian Community Day pays for the production. Songs lyric and dialogs are mostly written by Ben Bao. Lakhon Bassac Unit modifies some of the contents to suit the rythm of the songs, but the main idea remains as in the original plan.
| | |
| --- | --- |
| song 1: Yeak Pinreach summoned his son | |
| song 2: Yeak Veyroth on the way to attend his father | |
| Song 3: King Aphay Soriya call for a meeting | |
| Song 4: Tip Sangva goes to attend the meeting | |
| Song 5: King Aphay Soriya asks To lead the army | |
| Song 6: Chao Phirun and Ta Eisey | |
| Song 7: Chao Phirun journey | |
| Song 8: The battle of yeaks and Tip Sangva | |
| Song 9: Chao Phirun discovers Sangva Vong is Tip Sangva | |
---
| | |
| --- | --- |
| | If you like what we are doing, please support us by using https://smile.amazon.com/ to shop at Amazon. Please choose Cambodian Community Day as your cause. Amazon will donate to us. Thank you. |