Articles
Phare, The Cambodian Circus US Tour
September 14 November 2, 2015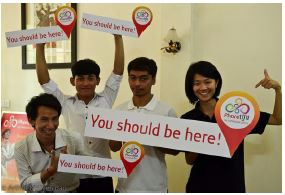 Siem Reap Cambodia, September 2, 2015. Phare, The Cambodian Circus is proud to announce that it will conduct its first tour of the USA between September 26 and November 2, 2015. The centerpiece of the tour will be performances of "Khmer Metal", a critically acclaimed production internationally, at the Ringling International Arts Festival in Sarasota, Florida on October 16, 17 and 18, 2015. It will also perform Khmer Metal at selected venues in Northern and Southern California and in Washington, DC. The versatile artists of Phare also present whenever appropriate a lighter-hearted performance of "Cabaret", as well as Cambodia 's 60s Rock n Roll music/dance concert (click here for teaser). The Phare artists will be available to entertain, inform and dialogue with audiences, including through a screening of a documentary film by the American film maker Lauren Shaw entitled "Angkor 's Children". The film features one of the female cast members on this US Tour. Finally, they stand ready to offer circus/music workshops/master classes, to give talks to schools and groups, and to participate in media interviews.
The current schedule of secured performing appearances by Phare is presented in Annex A of this release Phare.
The Cambodian Circus, after a number of highly successful tours in Asia and Europe over the past 10 years, desires to use its presence in the United States to reach out to American audiences, to present its unique take on Cambodian culture that combines the best of the country 's past heritage with the group 's creative daring vision of the future, through:
´éÀ performing private entertainment shows tailored to the specific requirements of the sponsor,
´éÀ putting on initiation workshops to the circus arts or to Khmer music, and
´éÀ participation in information/discussion meetings/workshops to meet the artists and to present the social action program of Phare Ponleu Selpak, the mother institution from which the Circus emanated, in working with the most disadvantaged, vulnerable yet underserved populations in Battambang Province.
Highlights about Phare 's mission, history and current activities and about the Circus ' offerings can be found in the Fact Sheets attached to this release.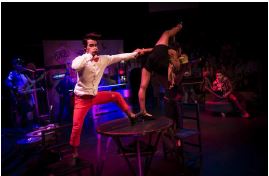 Growing up in Cambodia after a genocidal war in which 90 percent of intellectuals and artists were targeted and killed, Phare 's young artists are the first hand living witnesses of a broken society in the process of rebuilding itself. They are the ambassadors, the connectors to Cambodia 's centuries old roots in traditions that have been largely destroyed. They will inspire US audiences as much as they will be inspired by them and the experience in their first foray into the New World. The Circus ' wish is to reach out both to individuals of Cambodian origin to help reconnect them with their cultural heritage and to other Americans of all origins to introduce them to the Cambodian cultural heritage in circus arts and music. These disciplines form a critical core to Phare 's approach to reintegrate some of Cambodia 's most neglected youths into society as creative and productive citizen.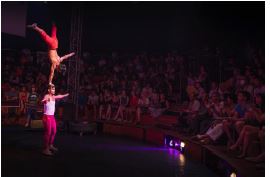 The story of Phare is a story of the resilience of the human spirit overcoming lives filled with adversity. The invitation to perform and to speak out to American audiences adds to Phare 's record of achievements and milestones of inspiration. By seeking to entertain, inform and engage their audience in dialogue, Phare artists help bring about an awareness of what too often is taken for granted. In return, and as leaders of the rising generation, these artists are able to share with young Cambodians, most of whom lack the opportunity to experience the world outside its borders, the fruits of their experience in traveling the hundreds of paths they follow as their journeys crisscross the world. Our artists are already leaders in their own lives. They are the breadwinners of their families, spearheading the strivings of their families to break out from a cycle of poverty and ignorance. The experience of visiting the US will doubtless inspire them to greater achievements in their lives and enrich their communities ' contribute to the development of Cambodia as a society. A testimonial letter to this effect by Cynthia Schneider, Distinguished Professor in the Practice of Diplomacy, Georgetown University and Former US Ambassador to the Netherlands, is attached as Annex B to this release.
Please feel free to contact Phare with your questions and suggestions, as they will be heartily welcomed:
HUOT Dara
This email address is being protected from spambots. You need JavaScript enabled to view it.,
Tel: +855 15 662 314
Chief Executive, Phare Performing Social Enterprise