Prasat Koh Ker
Angkor era is known to be rich, glorious, and powerful. There are plenty of temples that were built with various architectural infrastructures, by Khmer kings from generation to generation. Though gradually, the kingdom kept expanding. New settlements were founded, old settlements were enlarged to become the center of culture, administration, and politic.
Prasat Thom, also know as Koh Ker, was the state temple of Jayavarman IV (928-941). Jayavarman had an armed conflict with Harshavarman I and his brother Ishanavarman II. He moved to Koh Ker and built his capital there, some 100 km to the northeast of Angkor. A stone inscription dated 921 states, "Jayavarman IV left the city of Yashodharapura to reign at Chok Gargyar taking the Devaraja with him." Devaraja means King of Kings. Another stone inscription found at Neang Khmao temple (a temple within Koh Ker area) said: after king Isanavarman II died in 928 AC, Jayavarman IV announced himself as King of Khmer Empire with his new capital at Koh Ker. Koh Ker was an impressive royal capital of Brahmanic temples, which can prove that Jayavarman IV was a king of wealth and power.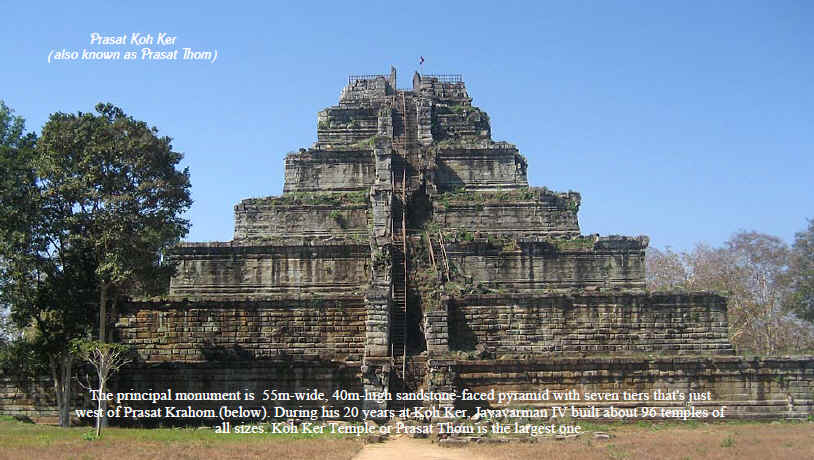 This city, however, lasted for only 20 years. It was abandoned immediately after his death. His successor, king Rajendravarman II, moved the capital back to Angkor with unknown reason. Because of the returning of the capital from Koh Ker to Angkor, many historians believe that the Jayavarman IV was a "usurper king". It is because that monarchy in Cambodia at the time had no rule of succession.
What was really happening in tenth century concerning Jayavarman IV and his city, Koh Ker? What was the reason behind his relocation of the capital from Angkor to Koh Ker? There is short documentary film (about 35 minutes) that explores, explains and possibly provide accurate answers to these questions. The film won Camellia Memorial Award in China. Click to watch the film below.
Film credits:
Supervisor: H.E Khieu Kanharith
Excutive Producer: H.E Kem Gunnawadh
Script/Director : Dr. Chen Chanratana
Editor and graphic : One Shot Team
Narrators: Mr. Phalla Pharith, Mr. Siv Sokhoeun
Language: Khmer (English sub-title)
For Asian Television Arts Week in China from 2nd - 5th June 2014 at Kun Ming province, China
Co-produced by: Ministry of Information, National Television of Cambodia (TVK) and Kerdomnel Khmer Team
Other videos related to Koh Ker:
---
---
---