Prasat Ta Keo
Prasat Ta Keo is one of the great temple-mountain at Angkor area built by Jayavarman V (968 '1000 AD), son of Rajendravarman, who also build Bakheng and Pre Rup. It is located at the west edge of the East Baray and about 2 km east of Victory Gate of Angkor Thom. Ta Keo was designed in the same style of Bakheng and Pre Rup with five-peaked towers in quincunx represents Mount Meru. Ta Keo is outstanding for being the first temple-mountain to be built entirely of sandstone. However, it 's an incomplete temple in which the construction had stopped when the carvings had just begun. The five-tier pyramid consists of overlapping terraces (a step pyramid), surrounded by moat, as a symbolic depiction of Mount Meru. Its particularly massive appearance is due to the absence of external decorations. It is considered an example of the so-called Khleang style.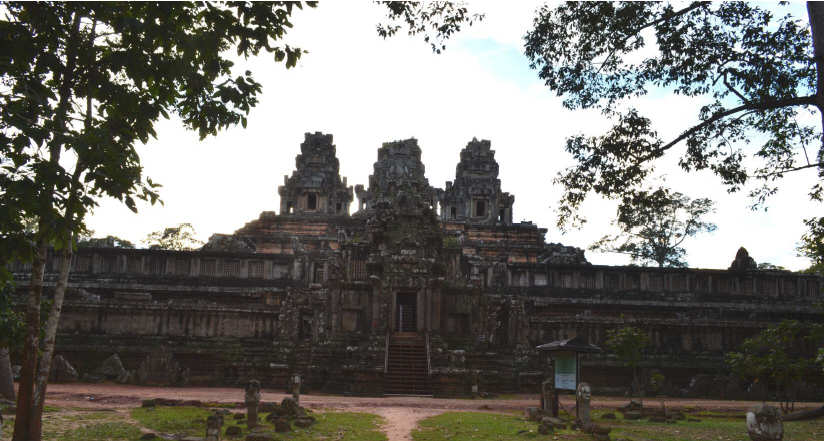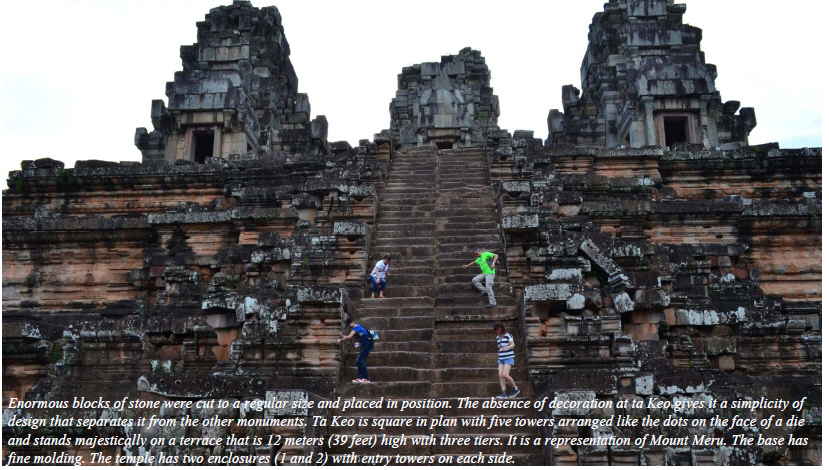 Ta Keo temple was constructed in the reign of King Jayavarman V (968-1000), the successor of Rajendravarman II who built Pre Rup and East Mebon. Jayendranagari (capital of the victorious king) is the name of his capital city located at the north of ta Keo and at the center of western bank of East Baray. Ta Keo was constructed to be his state temple, but its construction position was not in the central of the capital city, which was considered to be breaking the tradition in building the state temple.
According to Kok Po stone inscription, Jayavarman V reigned in Jayendranagari at 978 AD and his capital was recognized by a temple-mountain with Golden Peaks in which Sanskrit called Hemasringagiri. The construction of Ta Keo was started in 975 and it was dedicated sometime around 1000, when the temple was not completed and the construction had stopped. The reason of stopping the construction is uncertain; probably it 's simply because of the dead of the King. The wrong position of Ta Keo is also said to be the cause of the King 's death.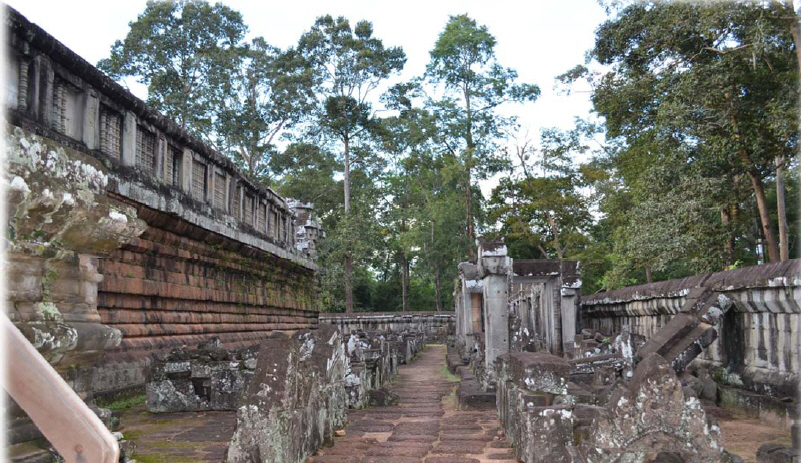 Later, in 1010, King Suryavarman I gave Ta Keo to Yogisvara Pandita, who was a high priest as well as a minister of him. An inscription said Yogisvara Pandita had tried to continue the construction, but then the central tower of Ta Keo was struck by lightning, which confirmed the mistake. Thus the temple was left uncompleted ever after.
Here are few pictures of Prasat Ta Keo, taken by Ben Bao in 2012.