Prasat East Mebon
Prasat East Mebon is a 10th Century temple at Angkor, Cambodia. Built during the reign of King Rajendravarman, it stands on what was an artificial island at the center of the now dry East Baray reservoir. It has five towers arranged like the numbers on a die atop a base with three tiers. The whole is surrounded by three enclosures. The towers represent the five peaks of the mythical Mount Meru. They were built of brick and open to the east. They have three false doors made of sandstone. Male figures on the comers are finely modeled. Circular holes pierced in the brick for the attachment of stucco are visible. The false doors of the towers have fine decoration with an overall background pattern of interlacing small figures on a plant motif.

Built in the general style of Pre Rup, it has two enclosing walls and three tiers. It includes the full array of durable Khmer construction materials: sandstone, brick, laterite and stucco. At the top is a central tower on a square platform, surrounded by four smaller towers at the platform 's corners. The towers are of brick; holes that formerly anchored stucco are visible.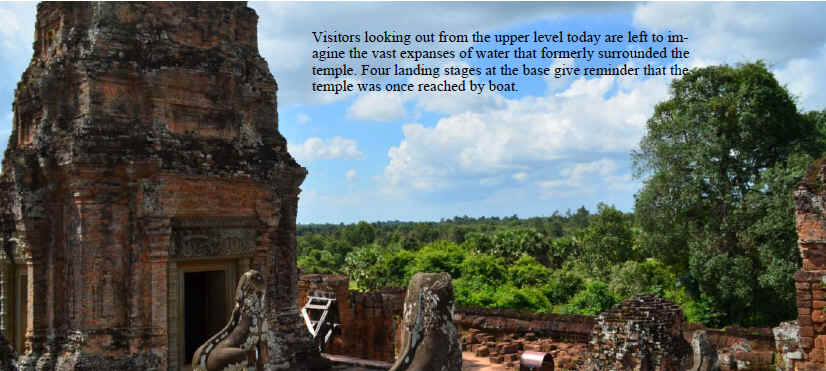 The sculpture at the East Mebon is varied and exceptional, including two-meter-high free standing stone elephants at corners of the first and second tiers. Religious scenes include the god Indra atop his three-headed elephant Airavata, and Shiva on his mount, the sacred bull Nandi. Carving on lintels is particularly elegant.
The towers are constructed of laterite and sandstone and have three doors with porches. An inscription was found to the right of the east tower. A series of galleries surrounds the interior of this enclosing wall. The walls are of laterite and have porches, sandstone pillars and rectangular windows with short balusters.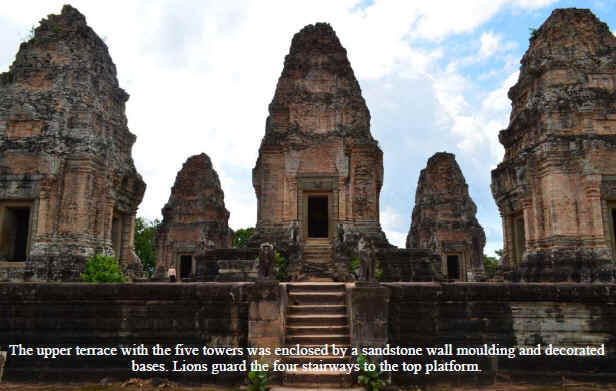 The stairways of the tiered base are flanked by lions. Beautiful monolithic elephants stand majestically at the corners of the first and second tiers. They are depicted naturalistically with fine detail such as harnessing. The elephant in the best condition, and the most complete, is in the southwest corner.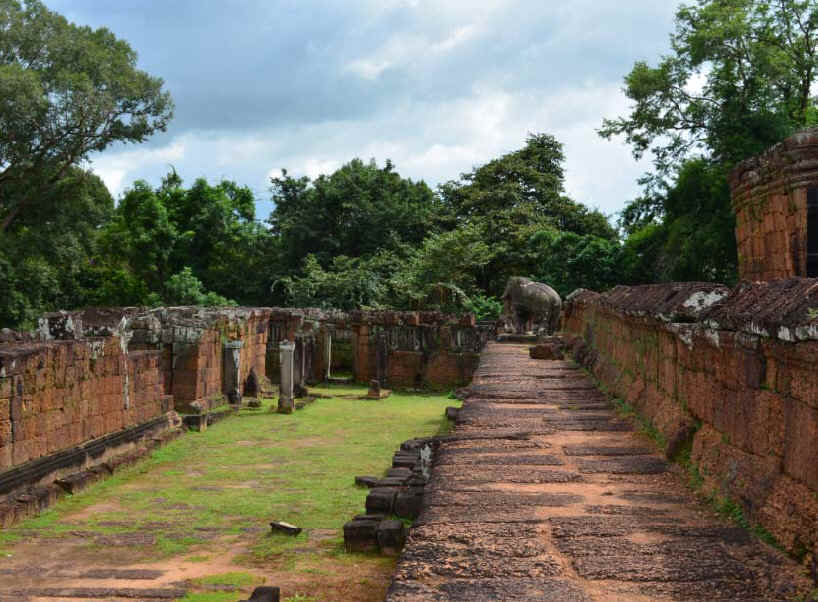 Here are few pictures of Prasat East Mebon, taken by Ben Bao in 2012.