Prasat Kravan
Prasat Kravan
Prasat Kravan is a small 10th century temple consisting of five reddish brick towers on a common terrace, located at Angkor area south of the artificial lake or baray called Srah Srang. It was built in the first half of the tenth century (921) during the reign of Harshavarman I. It may have been built by high court officials in Hindu religion following transition of the capital from Bakheng to Koh Ker.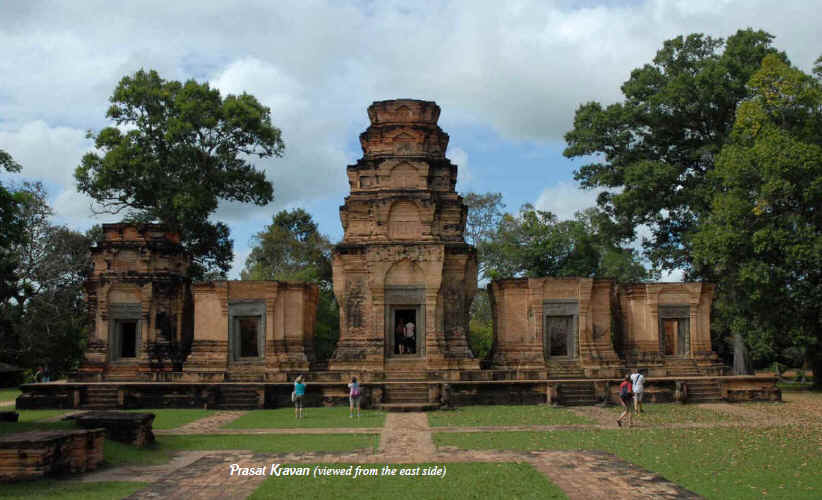 Kravan is an unusual arrangement of five towers in a row on one terrace. Only central tower is in good shape. They are built of brick; the lintels and columns are of sandstone. The central tower has impressive interior decoration. North tower was dedicated to Laksmi, wife of Siva. She holds the symbols of her powers in her four hands and is flanked by kneeling admirers. The walls on the interior of south tower has no decoration. A lintel on the exterior decorates a statue of Visnu on Garuda.
| | |
| --- | --- |
| | > |
Today, the temple is accessible from the road at the west side. The real door on each tower are on the east side. Doors on the west side are fake. There is a moat surrounding the temple.
Prast Krahom
Prast Krahom is the second-largest structure at Koh Ker, which is named for the red bricks from which it is constructed. Sadly, none of the carved lions for which this temple was once known remain, but there are remains of stone archways, galleries, impressive stone carvings grace lintels, doorposts and slender window columns.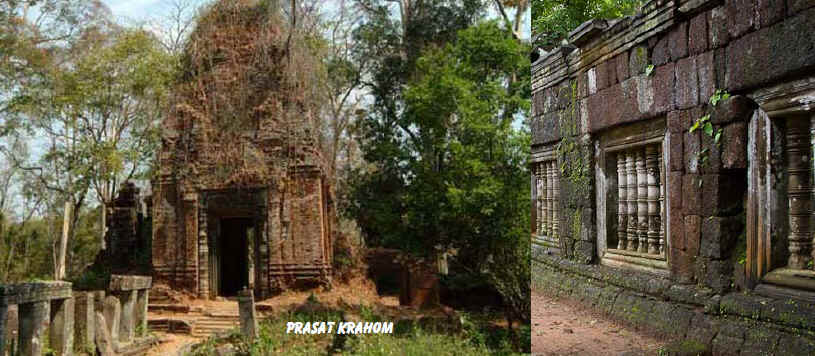 Here are few pictures of Prasat Kravan, taken by Ben Bao in 2012.