Pailin
---
Table of Contents
History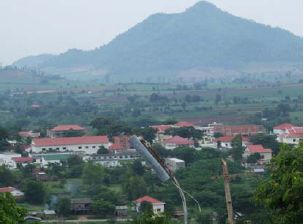 Pailin is originally a small forest zone which fulled of animal and several precious stones. The people of Pailin are predominantly Kola. The Kola people originally migrated from Burma beginning in 1876. In the late 1970s, Pailin was a prosperous town stemming from the extensive gem deposits in the surrounding countryside. A new wave of tourism began found depend on its ancient temple, natural forest, animals and especially the precious stones. Points of Interest Pailin is located 68 Kilometers west of the Capital City of Battambag. It is used to the area and make it one of the provinces of Cambodia. In the old days, Pailin was famous for gem stone mining. It is one of the best in Southeast Asia. It was just about a decade ago, the gem stone mine was depleted. Nowadays, Pailin looks more plain than when it was covered by deep jungle that housed many wild animals.
The road to Pailin is very difficult as of summer 2009, but it will change soon. The road and bridges are being built and is expected to be completed before the monsoon season of 2009. It will take about one hour or little longer to get there from Battambang when the road is completed.
There is one famous place worth visiting if you are in the area. And that is Phnom Sampeo where famous song writer Pov Sipho wrote many love songs.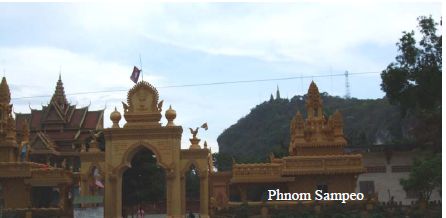 There are a couple of other interesting places right in the city of Pailin, one of which is Phnom Yat (picture shows entrance stairway to the top of the mountain). Tourist now can drive up to top without having to use this stairway.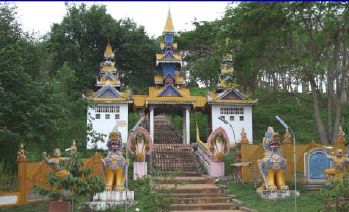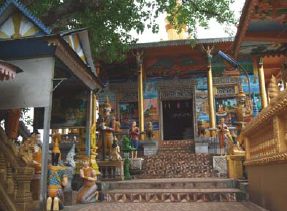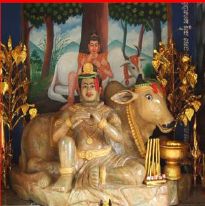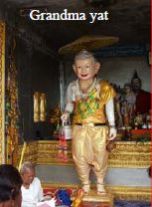 While on top of the mountain hill. there are several temples and altars, one of which houses a statute of Preah Ko & Preah Keo, characters of a Cambodian legendary, compatriotic drama story. This place is the historic place in this drama. On the top of Phnom Yat, there is a statute of Grandma Yat, believed to be the founder and care taker of Phnom Yat Temple. People went up there to pray for prosperity and good health.
Food
In Pailin, there are a few different kinds of foods. Kola's food is distinct from Burma's Cuisine as well. The most popular Burmese style one is Mee Kola which is a vegetarian noodle dish made from thin rice stick noodles, steamed and cooked with soy sauce and garlic chive, sometimes mixed with some meats and small lobster. Other dishes include Tom yum from Thailand and Mon banana pudding of Burma.
Costumes
Pailin people, known as Kola, wears varieties of traditional costumes of a rich Kola rich lady and princess as shown in this folklore dance. Woman wears colorful sarong and uses a distinctive colorful umbrella known as Taing You for a daily-life activities. Man wears strife-color sarong, usually made from silk.
The Traditional clothes of Pailin is Longyi, also known as Sarong. Kola men wear ankle-length patterns of checks, plaids or stripes "Longyi" in any kinds of color. The Men always wear their white eingyi shirt which has a mandarin collar and sometimes also wear a traditional jacket called teik -pon over their eingy. It has white, grey, black or terracotta colors. They put the Gaung Paung turban on their head and on their feet wear simple rubber or velvet slippers. For Kola women 's calf-length longyi are in solid colors, flower prints and many kinds of designs. They soften have a red based color, with partial stripes or very small checks similar to what Mon wear. They also often have horizontal or vertical stripes at the middle part. Royalty traditionally wore a long dress called "thin-dai" decorated by many threads. It was always worn by a lord's daughter and the king of the province's lady.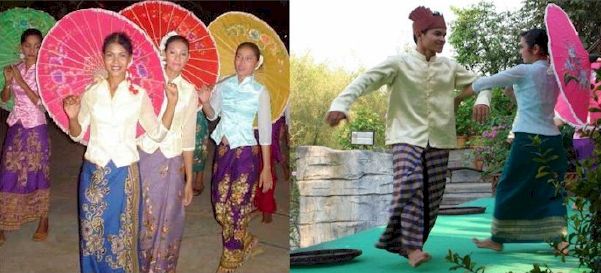 The Women wears a beautiful blouse and a lovely shirt which know as eingyi. The shirt is decorated with several colors and many piece of silver. The shirt also has horizontal or vertical stripes at the middle part in some beauty color. Kola women tie a traditional shawl on their eingyi as well as they put the shawl on their shoulders. Women tie a lovely band on their head and wear beautiful flowers in their hair, allowing their hair to drop as a ponytail above their shoulders. They sometimes took a traditional umbrella made from baboom with them. The footwear is simple slippers of leather or velvet called Hnyat-phanat. All of these costumes were shiny with bright colors during celebrations. The clothing is very similar to what is worn by the Shan in Burma.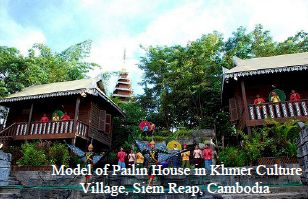 Economy
The surrounding area in the past was rich in a variety of gemstones which were mined almost clean to support the Khmer Rouge. They also logged the area extensively, creating great environmental damage. Unlike most of Cambodia, Pailin is composed primarily of uplands where little rice is grown. Many farmers produce non-traditional crops for the markets, including sesame, mung and soya. In 2003-04 it produced 17,204 tons of maize, the second-highest production in the country.
Pailin Peacock Dance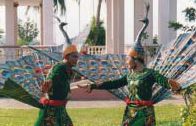 It is a dance of Kola ethnic group, who live in the region of Pailin in the west of Cambodia. The dance relates to a Pailinian legend about a magic peacock who goes to preach to the King. The lively dance is about commemorating this peacock which is a symbol of happiness. The dance imitates the peacock with lively colors of beautiful wings, and suggests a courting scene between a peacock and a peahen. The dance is said to bring happiness and prosperity to villagers, and is often performed during the New Year and ritual ceremonies in times of drought to pray for rain.
Researched by Mealy Chhim, edited and illustrated by Ben Bao.